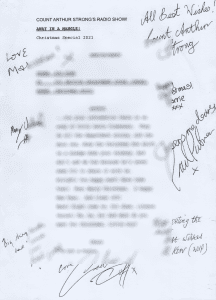 Once again Count Arthur Strong is auctioning off a signed script for Christmas. Go to https://www.countarthurstrong.com/auctions/?ult_auc_id=12847 to bid. (PLEASE BID ONLY IF YOU ARE PREPARED TO BUY!)
The auction ends on the 17th December at 22:00
A totally one-off event. A unique opportunity to buy a signed script for the 2021 Count Arthur Strong Christmas Special. You can read along to the broadcast!
This episode will make its debut on BBC Radio4 as part of its Christmas Eve programming and is the first to feature new cast member Paul Putner.
This is one of the original scripts used by the cast for the show and is the only signed one in existence. It has been signed by all the performers.
All proceeds will be going to The Lawrence Centre in Wells which provides day opportunities for older people including those living with memory loss and health issues. For more information please visit their website https://thelawrencecentre.org.uk/
The winning bidder will be contacted using the email address provided whilst making the bid. No other email addresses can be used in correspondence with the winning bidder.
Payment is by bank transfer or cheque. We hope to be able to accept Paypal/credit card by the end of the auction but no guarantees!
If no reply is received within 48 hours and payment is not cleared within 3 working days, the item will be offered to the next highest bidder.