Brighton Argus Review
This entry was posted in
Press
on
.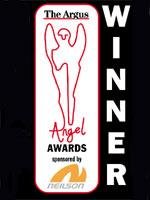 By Glen Ferris
Wednesday 23rd May 2007
The life and times of Doncaster's most influential and talented showman have been recorded in great detail, not least in the pages of this very newspaper.
He has told the story in his own autobiography, Through It All I've Always Laughed, we've heard his weekly adventures on Radio 4 and seen his travails recounted on the stage of his beloved "Komodo" theatre.
Time then, surely, to set the annals of the great Count Arthur Strong to music? The question mark in the show's title may give you some clue as to how successful that idea really was.
In a word, one of the Count's in fact, the very notion is "pissposterous". But then the man who includes Jimmy Clitheroe and Princess Michael of Kent as close friends he once met is not one to let such an epic undertaking deter him.
Attempting to distil his life, loves and career into a musical, the Count sang, danced, rapped and, aided by his camp protege Malcolm (Terry Kilkelly) and abetted by keyboardist and former Matalan employee Ronnie Conway (Anthony "Lou" Macari), failed miserably and hilariously on every level.
We've said it all before and nothing has changed. Steven Delaney's masterful creation is quite simply one of comedy's greatest characters. A bumbling, stuttering, drink-sodden amnesiac, he's flying the flag for Great British funnies.
What more can we say? Nothing.
Just give the man the award.
http://www.theargus.co.uk/news/1419779.count_arthur_strong_the_musical_komedia_brighton_sunday/