BAFTA award winning writer, Graham Linehan (Father Ted and The IT Crowd) has joined forces with Sony Gold Comedy Award winner, Steve Delaney and Olivier Award winner Rory Kinnear for a brand new comedy series for BBC Two, Count Arthur Strong.
The 6 x 30 minute series will air this summer and follows the world of Count Arthur Strong (Delaney), a bumbling faded variety act, prone to delusions of grandeur, selective memory loss and the blurting out of malapropisms. He was never as famous as he thinks he was… or still thinks he is. Now Arthur's days are all about opportunity with another great entertainment triumph only a phone call away. But until that call comes Arthur spends his day making the most of what comes along creating chaos and confusion wherever he goes – blissfully unaware that he has done so.
The series starts with news reports of the death of Max Barker, Count Arthur's old partner from the early days on stage. Max's son Michael (Kinnear) has agreed to write a biography of his famous father and sets out to find his father's old variety partner. Little does Michael know that his few days of 'research' will create a world of chaos – Arthur's world.
Graham Linehan says: "Every time Steve does the voice I'm cracking up, and I suddenly know what the next line should be, or the next scene, exactly how and where he can be funny. Steve has an approach to Arthur that is instinctive and warm, and I'm looking forward to getting deeper into that."
Steve adds: "I've had the best time 'doing' Arthur for the past 15 years and to now have someone like Graham to lean on through it is tremendous. There is no one I'd rather work with. But don't tell him that."
CHARACTER PROFILES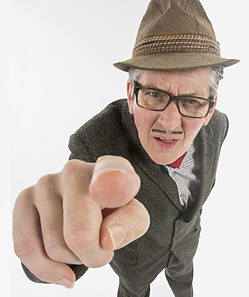 COUNT ARTHUR STRONG (PLAYED BY STEVE DELANEY)
70 year old Arthur Strong, a faded variety star, still believes he's in show-business. Ever optimistic, Arthur goes through life ready to try anything to make a few £££'s – and ready to give a performance whenever he feels he has an audience. Unfortunately he's not very good at either and his efforts usually end in chaos.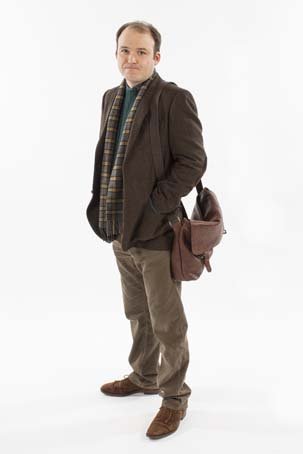 MICHAEL BAKER (PLAYED BY RORY KINNEAR)
Michael grew up hardly knowing his father, comedian and 'King Of Saturday Night' Max Baker, and now that he's dead , Michael's been asked to write a biography about him. Shy, bookish and quiet – his need to research his Dad's life leads him to spend time with Arthur – and exposes him to quite a different life.
BULENT (PLAYED BY CHRIS RYMAN)
Bulent is the irascible Turkish owner of Arthur's local cafe. A man with a fiery temper and who seems to dislike everyone. He runs the café with his younger sister Sinem, and this café is at the heart of the series and Arthur's main stage. Bulent puts up with Arthur but only just.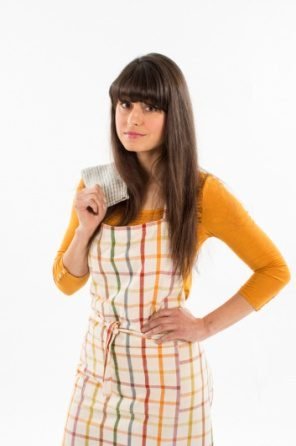 SINEM (PLAYED BY ZAHARA AHMADI)
Sinem runs the café along with her elder brother Bulent, but it's not really the life for her. Smart as a whip and with a devilish sense of humour she stands up to her brother and is the smiling face of the café. She puts up with Arthur's eccentricities with good grace and looks after elderly Katya and eccentric Eggy. And could she be developing a thing for Michael?…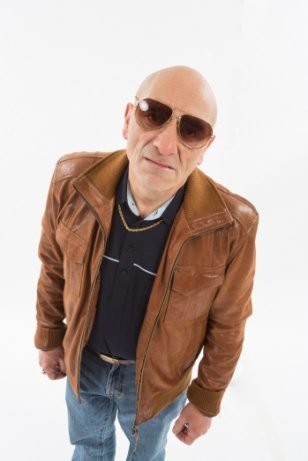 JOHN THE WATCH (PLAYED BY ANDY LINDEN)
John the Watch is an enigma. Part of the furniture of the café, he almost never removes his tinted shades. A close friend of Arthur's, little is known of him beyond these facts.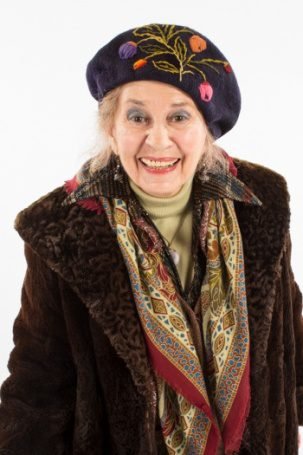 KATYA (PLAYED BY RUTH POSNER)
Katya is Arthur's greatest fan, Arthur's 'Polish Princess', who always sits at the same table in the café and eats only soup – she is also very much part of the café furniture.
EGGY (PLAYED BY DAVE PLIMMER)
Eggy is obsessed with eggs for reasons known only to himself. Distrustful of reality, he has found solace in various conspiracy theories. He is a quiet, gentle and somewhat melancholy presence in the cafe.
HOW IT ALL BEGAN (written by Steve Delaney)
Arthur is based on many influences and people from my youth from the 60's and on. Next door neighbours, relatives, eccentric shopkeepers. There seemed to be a wealth of them around when I was growing up and, I didn't know it at the time but, I was storing all of them up for later use.
I first performed a version of what was to become Count Arthur as an end of term act whilst at the Central School of Speech and Drama in the early 80's. We'd spent a term working on aspects of 'circuses' and there were to be end of terms showings. I decided, rather than do the traditional thing and pretend to walk the tightrope or be a clown that I'd do a circus strong man, who sang and played the piano. The act ended with me having a tussle with Dracula and seeing who had the strongest teeth in Christendom. It was obviously Arthur.
I then put Arthur aside for a few years whilst I was seeking acting work and working as a carpenter but within that period I was constantly wondering how Arthur would react to things that I would see happen. He was always my second take on situations.
Because I could generate an income as a carpenter, it meant that I could subsidise myself whilst I was developing Arthur and I could do so at my own pace which was very important to me. I eventually began to perform in some carefully chosen comedy clubs at the beginning of 1987. I developed material over the next few months, putting a show together to take to the Edinburgh Festival, the first of, I think, nine visits to Edinburgh. Although audiences were thin at that first Edinburgh, my show generated a fair bit of interest and I ended up a few months later making a series of short films for the Paramount Comedy Channel. Other small TV appearances followed.
Each consequent visit to Edinburgh brought more support from audiences, and the shows up there turned Arthur into something of a cult figure. Richard Daws and Komedia Entertainment came on board in 2002 for my most successful Edinburgh to that point, 'Count Arthur Strong's Forgotten Egypt'. I have continued to tour a live show annually.
In 2005, BBC Radio 4 commissioned a series, 'Count Arthur Strong's Radio Show' and, to date, we've had seven consecutive series and a couple of specials, winning the 2009 Sony Radio Academy Award for best comedy.
I recorded my first TV series, the snappily titled, 'Count Arthur Strong', co-written with our director, Graham Linehan this 2013.
INTERVIEW WITH STEVE DELANEY
1. Who is Count Arthur Strong?
Well he's whatever people make of him really. In a nutshell he's an ex variety 'star' who's wonderfully mistimed variety career, beginning in the late 50's, just as the variety circuit was gasping it's last, has meant he's always been chasing it. He played tiny parts in 'Juliet Bravo' and 'All Creatures Bright and Beautiful', (whatever it's called). He lives a life based on those minor triumphs, plus some other ones he may or may not have been in. How much more does one need to know? Watch the telly series!
2. Count Arthur Strong was first created in the 1980's, how has the character evolved since then?
He's evolved quite a lot I think. I've grown into him for one thing. My approach to Arthur was never what you'd call academic and he's evolved over a good long period of time and I'm pleased that with the great management set up I have in place, I had that time. Each live show I've done, and I'm told that's some 350 or so performances, I've found out a little bit more about him, and all these bits have added to the sum total. If I look back at early footage of Arthur, from when I started, he looks like the bones of something. He has to continue to develop; otherwise it's all about reproducing and that's not as much fun or as interesting.
3. Did you always envisage making the transition from radio to television?
Not so much a transition from radio, but I always had a TV sitcom in my mind. I've absolutely loved doing seven series of the radio show and when I was doing it that's all I was thinking about. It was a big undertaking. Writing and performing the radio series and touring every year, just about filled my diary for the last seven years so that's been fantastic. I still hope to find the time to do some specials for radio 4. I love the good TV sitcoms, Steptoe and Son, Hancock, Fawlty Towers, and always thought Arthur would sit well in the right one.
4. What was is like working with Graham Linehan?
Which one was he?….
Seriously though… it was fantastic. I had the best time since I started 'doing' Arthur some 15 years ago. To have someone like Graham to lean on through it all was tremendous and there's no one I'd rather have worked with. But don't tell him that. He and our producer Richard Bowden are a great team and just took so much of the pressure off me.
5. After creating and playing the character for the last 20 years was it difficult to share writing responsibilities with someone else for the TV series?
It was different, but different is good. I have worked alone and consistently as Arthur for a long time, and you get into routines and bad habits because you only have to think of yourself. Working with someone else may take a bit of time, and it should. It should be a thought through process. But we had a great time working together and a lot of laughs. Really, Graham has such a good understanding of Arthur that there are a lot of things I don't have to worry about anymore. I trust him and his aims for the show totally and he knows that. That takes so much pressure off me. Plus, he is bloody good isn't he!
6. What trait, above all, do you most admire in Arthur?
His dogged determination.
7. What do you do to get into character as Count Arthur?
Nothing – put his suit, shoes and hat on.
8. Do you share any similarities with Count Arthur?
I've often said that Arthur is an amalgam of all my short comings, starting with bad posture. My wife would probably be the best person to answer this question.
9. Why do you think Count Arthur inspires such a dedicated following from fans?
That, I really don't know. I'm loath to analyse it actually. I think maybe people recognise something of themselves or someone they know in him. And maybe because he often says things in a very direct way and people admire that?
10. What do you think fans of the radio series will make of the TV show?
I hope they absolutely love it. But… some of them may not and I understand that. In comedy, what works for one person may not work for another. That's the nature of it. It's out of my control really.
11. At the end of a day's filming, do you find it difficult to shake off the character of Count Arthur?
Not remotely. I've always had a healthy overview of what I do and although Arthur is in my thoughts often and to a degree part of me, I've always been able to compartmentalise what I do.
RORY KINNEAR (Michael)
Rory Kinnear is the son of actor Roy Kinnear and actress Carmel Cryan. Rory read English at Oxford University before studying acting at LAMDA.
Rory is familiar with the small screen and silver screen as well as gaining recognition for his theatre work winning the 2011 Evening Standard Award, Best Actor for his performance in Measure for Measure and Hamlet, in which he also picked up an Olivier Award nomination – an award he won (Best Supporting Actor) for his performance as Sir Foppling Flutter in The Man of Mode in 2008. He is currently playing Lago in Othello at the National Theatre director by Nicholas Hytner.
Rory's film credits most recently include Cuban Fury, Skyfall, Broken (Won Best Supporting Actor at the BIFA's), Wild Target and Quantum of Solace with his TV credits including new comedy sitcom, Count Arthur Strong, Southcliffe, Loving Miss Hatto and Charlie Brooker's Black Mirror.
INTERVIEW WITH RORY KINNEAR
1. What attracted you to get involved in Count Arthur Strong?
I met Graham Linehan when they were doing a read of the pilot script in front of the big wigs at the BBC. It was in very different shape but still the idea was that Michael was writing a book about his father, Arthur's ex comedy partner. I liked Graham and I liked Steve but I didn't know if it was going to be picked up, I just thought it would be a fun way to spend a couple of days.
2. Were you a fan of the Radio 4 show?
I didn't know it at all but I have a few friends that are mad Count Arthur fanatics and when I mentioned the show was happening they were beside themselves with joy. I watched a few of his live shows and I loved it and I could see what attracted Graham to work with Steve to bring it into the visual medium.
3. How would you describe your character Michael?
Michael is a reasonably successful author but only successful in the limited pseudo-intellectual field in which he operates. He's quite repressed, quite sheltered from the lifestyle Arthur introduces him to and is largely a man of libraries and country walks when he can get out of town. Being thrust into the urban milieu, particularly amongst the eccentrics Arthur's life tends to revolve around is an entirely new experience for him.
4. Michael is much more serious than Arthur – was it difficult to keep a straight face during filming?
Obviously in certain moments, certain lines were more difficult than others but the good thing is with cameras if you do start laughing they can always cut to something else. You can't let yourself giggle too much.
5. What trait, if any, do you most admire in Arthur?
He's from a long line of British characters where no matter what life seems to be throwing at them they are still, in their own mind, one small little break away from victory, stardom and success. That refusal to be cowed down by experience and reality and to live filled with hope and a bit of fantasy always makes for attractive characters. They can also infuriate as well!
6. Is Arthur someone you could spend time with in real life?
I could easily spend 45 minutes with Arthur on a train journey, that could be filled with at least two or three weeks' worth of anecdotes but to go on holiday with him would definitely be a stretch too far.
7. How did you find filming in front of a live studio audience?
I hadn't done it before so that was a whole new experience for me. It was something over a period of six weeks that you felt you got to understand a bit better and be aware of what the audience are seeing. The immediacy of the audience gives you that instant knowledge as to whether something is funny or not.
8. What did you do to prepare yourself to enter Arthur's world of chaos?
The nice thing about doing a weekly record is you're rehearsing all week and working on getting the script better. Come Friday when it's time to actually film it, you feel like you've done most of the work!
9. Arthur utters many malapropisms across the series. Can you pick a favourite?
"Why would you want to wipe a flannel on a sausage?" Because he thinks I'm a restaurant critic, there's a new menu with fennel in the sausage. That always tickles me.
10. What are your hopes for this series?
The radio show had a loyal following so it has built up a strong following and support. You hope that viewers will take to its insanity and its lunacy. It's quite sweet natured and largely about friendship so it crosses generations.
GRAHAM LINEHAN (Writer and Director)
Graham Linehan is an Irish comedy writer and director, as well as actor and comedian, and creator of highly popular series' 'Father Ted' and 'The IT Crowd'.
After an early career as a journalist for the Irish music magazine 'Hot Press', Graham began collaborating with writer Arthur Mathews on many high profile comedy sketch shows including 'Alas Smith and Jones', 'Harry Enfield and Chums', and the Ted and Ralph characters in 'The Fast Show'.
It was Linehan and Matthews' creation of 'Father Ted' in 1995 that brought their greatest success of their early years. The programme won countless awards, including two BAFTAs for best comedy, and is today regarded as one of the greatest British sitcoms ever produced. Linehan and Matthews then wrote the first series of the sketch show 'Big Train', which Graham also directed.
Linehan has since written for other shows, including 'Brass Eye'. 2000 saw his next success with his co-creation of 'Black Books' with Dylan Moran. Graham also co-directed many episodes with Nick Wood.
In 2003 Graham directed the pilot episode of 'Little Britain'.
Linehan created, wrote and directed the 2006 Channel 4 sitcom 'The IT Crowd', starring Chris O'Dowd and Richard Ayoade, which went on to win multiple awards including the BAFTA TV Award for 'Best Situation Comedy' in 2009, 'Best TV Sitcom' at the British Comedy Awards in 2009, and 'Best Script for Television' at the Irish Film and Television Awards.
Over the last ten years Graham has also directed numerous ad campaigns with Sneezing Tree Films, including campaigns for ITV Sports Channel, which were awarded the Silver Arrow at the 2003 BTAA Awards, and four commercials from the award winning QTV series starring Martin Freeman. He directed the IKEA 'Van de Poop' campaign and in 2011 he did the Direct Line campaign starring Chris Addison, Alexander Armstrong and Amelia Bulmore.
In November 2011, Graham's stage adaptation of the Ealing Studio classic 'The Ladykillers' debuted at The Liverpool Playhouse before moving to The Gielgud Theatre in London starring Peter Capaldi and Ben Miller, where it received rave reviews and was a sellout show. It then toured and is due back in the West End this summer.
Count Arthur Strong is Graham's first collaboration with Steve Delaney.
INTERVIEW WITH GRAHAM
1. What attracted you to get involved in Count Arthur Strong?
I first saw Arthur in his 'Forgotten Egypt' show and I was just blown away. Steve totally inhabited the character and you could tell there was a massive intelligence behind it. He allowed these hilariously awkward pauses and trusted the audience to keep up. I like working with people who respect the intelligence of their audience.
2. Were you a fan of the Radio 4 show?
I was but we knew we had to change it for TV. It had to be more rounded, more realistic, and we had to make some definite decisions about how Arthur would fit into the real world. This meant moving away from some of the larger-than-life relationships created in the radio show and trying to ground it a bit more. I would tell our audiences that it was a reboot, which still seems to me the best way of describing it.
3. How was it writing with Steve Delaney who's been playing the character for so long?
Great! You'd say a line as one of the other characters and Steve would come back with the perfect Arthur response. Steve's very quiet and thoughtful, so the first part of the process was very serious, with us assembling all the various storylines and worrying whether we were on the right track, but then when we were on the second or third draft it was a lot more fun. Arthur would be in the room a lot more, so we were laughing a lot.
4. What trait, above all, do you most admire in Arthur?
In our original treatment, we described him as thinking of everyone else in the cafe as "a bunch of no-hopers", but as we wrote it, we realised that Arthur cares a lot for these people and didn't feel that way at all. His humanity, his decency started coming out. So that's what I admire most about him. He's quite near the bottom of the heap and he still has time for people.
5. How does Count Arthur Strong compare to other shows you have worked on?
It was very, very easy compared to everything else I've done. Steve is an incredibly hard worker, and he trusted me and my producer to take care of things behind the camera, so I could relax knowing he (and the rest of our brilliant cast) had everything in hand in front of it. It was a breeze.
6. Is there more pressure that comes with adapting a much-loved show with a cult following or do you see it as an opportunity to share the character with a wider audience?
I just didn't want to let Steve down. He's been touring out of his car for fifteen years and it would be nice if this resulted in, at the very least, a nicer car.
7. How do you hope BBC Two viewers will react to the character of Count Arthur?
I hope they come to love him as I do.
8. How difficult was it to get inside the mind of Count Arthur?
Very easy, with Steve sitting there, breaking into character from time to time. Also, I'm a big fan of misunderstanding in comedy so it was a good match from the start. The two teas confusion (episode one)…we were so excited as we saw things like that escalate. It was joyful, at times.
9. What were your main inspirations when writing the situations Count Arthur finds himself in?
We were always on the lookout for things Arthur could get wrong. Any possibility of a misunderstanding, we'd jump on it.