This entry was posted in
Featured
,
News
on
.
NEW DATES HAVE BEEN ADDED TO THE TOUR AND TICKETS WILL BE AVAILABLE FROM FRIDAY BY CLICKING HERE
The New Dates are:
10/03/2022 Margate Theatre Royal
10/04/2022 London Leicester Square Theatre (show 2)
04/05/2022 Liverpool Playhouse
05/05/2022 Norwich Playhouse
06/05/2022 Norwich Playhouse
07/05/2022 Malvern Forum Theatre
08/05/2022 Cardiff New Theatre
12/05/2022 Huddersfield Lawrence Batley Theatre
13/05/2022 Nr.Wrexham STIWT Theatre
14/05/2022 Southport Atkinson
20/05/2022 Ayr Gaiety
21/05/2022 Dundee Whitehall
22/05/2022 Aberdeen Tivoli
26/05/2022 Buxton Opera House
27/05/2022 Stockport Plaza
28/05/2022 Doncaster Cast
29/05/2022 Blackpool Grand
01/06/2022 Nottingham Playhouse
03/06/2022 York Barbican
Count Arthur Strong
presents himself in…..
'And This Is Me!'
A twentieth anniversary tour!
After many years of giving his wonderful lecture talks of his he does, Count Arthur Strong has at last bowed to substantial pubic demand and allowed himself be talked into making the show about himself for once. And that had never occurred to him before because of him being highly magnanimous.
From his breakthrough Edinburgh Fringe show 'Forgotten Egypt' in 2002 to talking about himself in 2022, Arthur has two decades of memories from his ten national tours,15 years of his multi Award winning radio show and three series of his BAFTA nominated TV sitcom.
"Pure genius and pure tribute to the golden age of vaudeville"
Bruce Dessau, Evening Standard
"At every turn, his performance gives us something to marvel at"
Brian Logan, The Guardian
Tickets are available to buy now by clicking here or going to
https://www.livenation.co.uk/artist/count-arthur-strong-tickets
The original tour dates still onsale are:
09-Feb-22 Wimborne Tivoli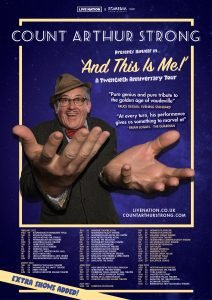 10-Feb-22 Epsom Playhouse
11-Feb-22 Milton Keynes Stables
12-Feb-22 Peterborough Key Theatre
16-Feb-22 Mansfield Palace Theatre
17-Feb-22 Harrogate Theatre
18-Feb-22 Crewe Lyceum
19-Feb-22 Dorking Halls
24-Feb-22 Leeds City Varieties
25-Feb-22 Ilkley Kings Hall
26-Feb-22 Lincoln Performing Arts Centre
27-Feb-22 Wellingborough Castle Theatre
03-Mar-22 Redditch The Palace Theatre
04-Mar-22 Monmouth The Savoy Theatre
05-Mar-22 Derby Theatre
06-Mar-22 London Leicester Square Theatre
11-Mar-22 Maidstone Hazlitt Theatre
12-Mar-22 Leamington Spa Royal Spa Centre
13-Mar-22 Winchester Theatre Royal
17-Mar-22 Reading Hexagon
18-Mar-22 Tewkesbury The Roses Theatre
19-Mar-22 Taunton Brewhouse
20-Mar-22 Exeter Northcott
24-Mar-22 Scarborough Spa Theatre
25-Mar-22 Middlesborough Theatre
26-Mar-22 Glasgow The Pavilion Theatre
27-Mar-22 Newcastle Tyne Theatre & Opera House
30-Mar-22 Runcorn Brindley
31-Mar-22 Lancaster Dukes
01-Apr-22 New Brighton Floral Pavilion Theatre
02-Apr-22 Shrewsbury Theatre Severn
07-Apr-22 Tunbridge Wells Assembly Hall
08-Apr-22 Isle of Wight Shanklin Theatre
09-Apr-22 Bexhill De La Warr Pavilion
02-Jun-22 Bridlington Spa Theatre
05-Jun-22 Salford Lowry (Lyric)
09-Jun-22 Southend Palace
10-Jun-22 Brighton The Theatre Royal
11-Jun-22 Richmond Theatre
12-Jun-22 Birmingham Alexandra
Look forward to seeing you all there!