2015 Tour Announced
This entry was posted in
News
on
.
Fresh from donkeys years on his award winning BBC Radio 4 series and the huge success of his  BBC2 TV Show, Count Arthur Strong gets back to doing what he does best. A show!
In 'Somebody Up There Likes Me' he'll be doing all sorts of wonderful things for you to sit there staring at as you quietly suck your Maltesers and don't get up to go to the toilet, applauding loudly at the appropriate moments. You'll laugh, cry and the other one. Here's a personal message from Arthur himself!
"Hello everybody. UNBELIEVABLE NEWS!  If you're holding sharp scissors put them down! I'm touring the UK from February next year! Tickets on sale from this Friday. Miss this wonderful event at your peril. If you only buy one ticket for something this year buy a ticket for this one twice and bring a friend. I promise you you won't regret it. And if you do there must be something wrong with you. No refunds!"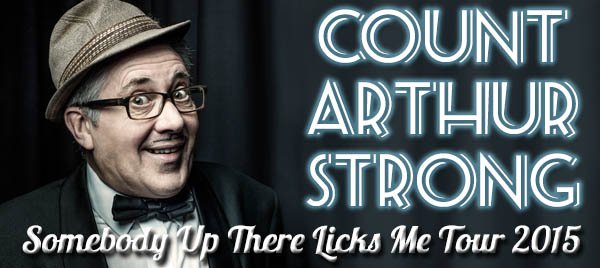 You can buy your tickets from 10am today!!
Arthur will be visiting the following wonderful places:
| | | | |
| --- | --- | --- | --- |
| Thursday | 05-Feb-15 | Norwich | Playhouse |
| Friday | 06-Feb-15 | Norwich | Playhouse |
| Saturday | 07-Feb-15 | Newcastle | Tyne Theatre |
| Wednesday | 11-Feb-15 | Swansea | Grand |
| Thursday | 12-Feb-15 | Wimbourne | Tivoli Theatre |
| Friday | 13-Feb-15 | Leicester | Curve |
| Saturday | 14-Feb-15 | Salford | Lowry |
| Sunday | 15-Feb-15 | Southend | Palace |
| Wednesday | 18-Feb-15 | Bury St Edmunds | Apex |
| Thursday | 19-Feb-15 | Swindon | Wyvern |
| Friday | 20-Feb-15 | Stockport | Plaza |
| Saturday | 21-Feb-15 | Northampton | Royal |
| Wednesday | 25-Feb-15 | Exeter | Corn Exchange |
| Thursday | 26-Feb-15 | Barnstaple | Queen's |
| Friday | 27-Feb-15 | Tiverton | Comedy Hall |
| Saturday | 28-Feb-15 | Falmouth | Princess Pavilion |
| Sunday | 01-Mar-15 | Winchester | Theatre Royal |
| Wednesday | 04-Mar-15 | Shrewsbury | Severn |
| Thursday | 05-Mar-15 | Leeds | City varieties |
| Friday | 06-Mar-15 | Leeds | City varieties |
| Saturday | 07-Mar-15 | York | Barbican |
| Sunday | 08-Mar-15 | Glasgow | Pavilion |
| Wednesday | 11-Mar-15 | Buxton | Opera House |
| Thursday | 12-Mar-15 | Peterborough | Key Theatre |
| Friday | 13-Mar-15 | Liverpool | Playhouse |
| Saturday | 14-Mar-15 | Warwick | Arts Centre |
| Sunday | 15-Mar-15 | Corby | Cube |
| Tuesday | 17-Mar-15 | Durham | Gala |
| Wednesday | 18-Mar-15 | Blackpool | Grand |
| Thursday | 19-Mar-15 | Harrogate | Theatre |
| Friday | 20-Mar-15 | Harrogate | Theatre |
| Saturday | 21-Mar-15 | Huddersfield | Lawrence Batley Theatre |
| Sunday | 22-Mar-15 | Milton Keynes | Theatre |
| Wednesday | 25-Mar-15 | Nottingham | Playhouse |
| Thursday | 26-Mar-15 | Margate | Theatre Royal |
| Friday | 27-Mar-15 | Malvern | Forum |
| Saturday | 28-Mar-15 | Bexhill | De La Warr Pavilion |
| Sunday | 29-Mar-15 | Brighton | Theatre Royal |
| Wednesday | 15-Apr-15 | Reading | Hexagon |
| Thursday | 16-Apr-15 | Worcester | Swan |
| Friday | 17-Apr-15 | Birmingham | Alexandra |
| Saturday | 18-Apr-15 | Salisbury | City Halls |
| Sunday | 19-Apr-15 | Bristol | Hippodrome |
| Thursday | 23-Apr-15 | Cheltenham | Town Hall |
| Friday | 24-Apr-15 | Richmond | Theatre |
| Saturday | 25-Apr-15 | Guildford | G Live |
| Sunday | 26-Apr-15 | Southampton | Nuffield |
| Tuesday | 28-Apr-15 | High Wycombe | Swan |
| Wednesday | 29-Apr-15 | Tunbridge Wells | Assembly |
| Thursday | 30-Apr-15 | Cambridge | Corn Exchange |
| Friday | 01-May-15 | London | Bloomsbury |
| Saturday | 02-May-15 | London | Bloomsbury |